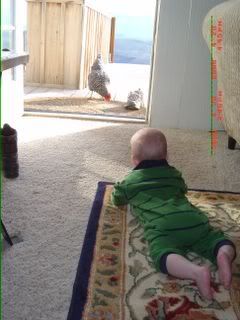 I could hear the clucking on the deck, and knew we were about to have our little feathered friend make her presence known. I layed Roman on the floor in the living room, and went to grab a handful of chicken feed to entice our chicken to stay awhile.

When I returned, the chicken was already at the door sizing up Roman, and Roman's feet were kicking like a frog out of water. Roman was so excited, and I could tell he hoped that the chicken would come a little closer so that he could give those black and white feathers a little tug, okay maybe a plucking if we're being honest here. But that chicken was no dummy, she stayed right at the door, and enjoyed her corn feed that was strategically placed on the door mat outside.

You could tell the dining experience wasn't quite as relaxed as that chicken would have preferred, but hey the food is good and cheap, you can't beat that right? All the while the chicken was pecking at this gourmet delight, she would lift her head in a bobbing motion and cock her head to the side to make sure that green, gyrating, squealing glob wasn't getting any closer. Luckily for that chicken, Roman couldn't crawl yet, or we may have had some chicken and dumplings for dinner that night.