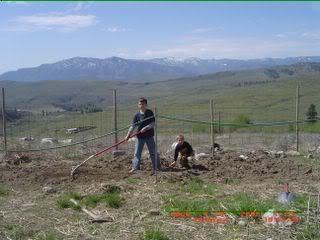 Levi and Abram working the ground.


The boys even rigged an irrigation hose to keep a mist on their garden.


What a beautiful day!! I am loving it! We have warm spring weather that has brought us all outside.
The boys are starting a garden spot. We have it fully fenced now and we are beginning the large task of manually tilling it. The boys wanted to head to the AgSupply to get some topsoil, but that will have to wait until we are further along. I even brought the jumperoo out for Roman to sit in so he can bounce and squeal while watching all the hub-bub.
I put dinner in the crockpot, so you know how wonderful it is to smell roast, potatoes, and carrots stewing in the house. It doesn't get much better then that. My hope is that it will be ready to eat after Levi's baseball and Abram's T-ball games are through this evening.
I actually put my first load up on the line outside today. *Breathing in the air* Spring has arrived!!