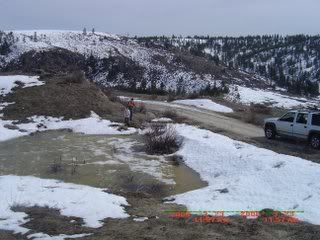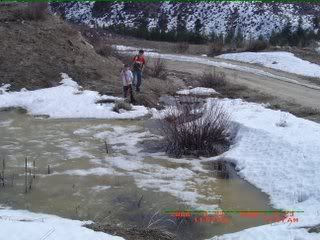 We were sitting around the table this morning finishing up our math, when the phone rings, it's Dennis. He is calling in an S.O.S, the driveway is being washed out. The snow is melting at such a quick pace that it has formed a pond at the top of our long dirt road, and it is washing it out rapidly. So Dad is calling to rally the troops...A.S.A.P.

I relay the message to the boys, they rapidly get their boots on, and head for the shop to grab shovels and a pick. They throw them in the back of the suburban, River jumps in to drive, and they head down the driveway to seek and find the damage. Sure enough, its bad! They begin to explain the damage to me over the walkie-talkies, and how they are going to dig a canal to guide the water away from the road, then they are going to build a dam to keep the rest maintained. They will be checking in periodically to let me know how it's going.

An hour, or so, later they let me know that they have controlled the disaster, but the road is pretty bad. The soil is weak, as the weight of the suburban continues to erode it away.

I explain that they should come back to the house and grab the camera so we can have pictures, thinking this is another good homeschool moment. Allowing them to discuss and come up with a way to resolve the dilemma, building their confidence as men. You can hear the take charge attitudes over the hand-held radio, and I can tell that they are feeling a sense of pride. They are eating this up, Dad will be pleased, even impressed at the conclusion of this mission.

Problem is resolved for now, although we will be keeping track on any new run away streams that may occur. Life in the country is all about turning boys into men. Over and out.